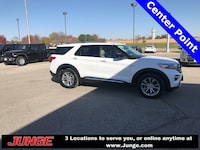 New 2020 Ford Explorer
Starting at $45,735 Save on your new 2020 Ford Explorer while they last!
New 2020 Ford Escape
Starting at $24,834 Get your new 2020 Ford Escape while they last!
Our Dealership provides a selection of Featured Inventory, representing popular items at competitive prices. Please take a moment to investigate these currently highlighted models, hand-picked from our ever-changing vehicle inventories!